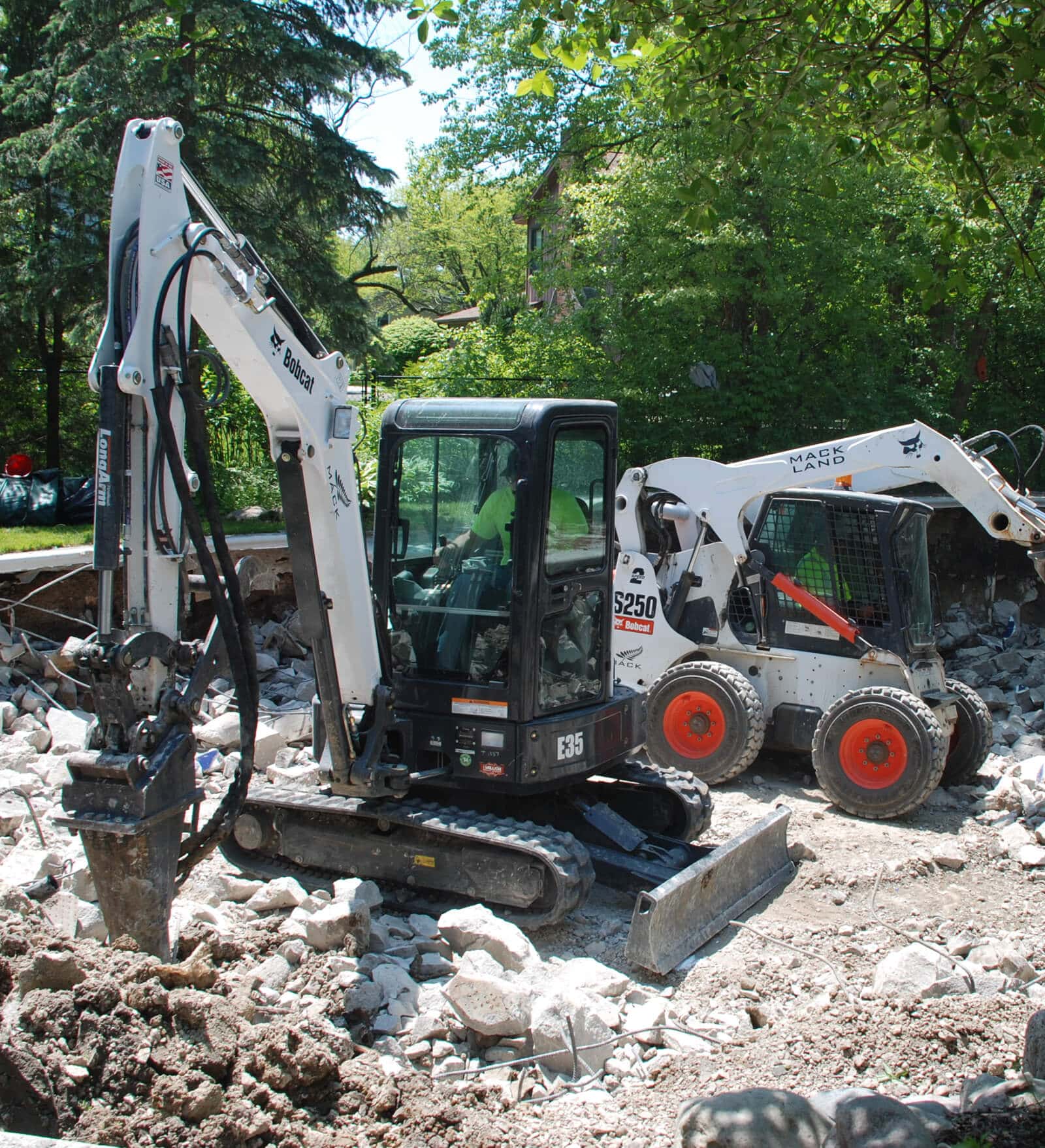 Compact Excavator Advantages
By: Tyler Mack | December 16, 2017
The compact excavator or mini excavator has many advantages with very few disadvantages.  You will notice that we use the compact excavator for a great deal of the services we offer.
Here are some of the many projects that we tackle where the compact excavator is used.
Grading & Drainage
Boulder and Outcropping Stone Walls
Electrical Trenching
Underground Utilities
Detention Pond Maintenance
Detention Ponds
Fish Ponds
Topsoil
Fill Dirt
Landscape Berms
Small Structure Demolition
Heating Oil Tank Removal
Concrete Removal
Driveway Removal
Debris Removal
Lot Clearing & Buckthorn Removal
Parking Lot Additions
A compact excavator is a large piece of equipment, driven by a qualified worker, that can be used for either digging or demolition. Because these excavators are smaller than other types of similar equipment, they are generally used for small to medium-sized projects.  These machines may not have the digging depth of their full-sized counterparts, but they bring superior capabilities to smaller digging operations in close quarters.
One of the biggest benefits of using a mini excavator is that it brings a lot of power to a small space. Even projects that don't provide much room for large equipment, a mini excavator may be able to handle with ease. They have a small foot print but are very powerful and can manage even tough tasks.
There are two basic types of attachments that can be used with a compact excavator, those used for digging and those used for demolition. The type of attachment we use will depend on the project we are working on and some projects may require us to use a few different kinds of attachments.
Compact Excavator Advantages
 More versatility.  – Different attachments to accomplish a variety of tasks using one machine. For example, you could drill a hole with an auger, demolish concrete with a breaker or move concrete debris using a thumb.
Better maneuverability. – Features such as 360-degree turning, offset digging and reduced tail swing allow rented compact excavators to work productively in spaces where a full-sized excavator could not move.
Lower fuel expenses. – A compact excavator uses less fuel than larger excavating equipment does. You also can tow a compact excavator using smaller, more fuel-efficient vehicles.
Lighter footprint. – A rubber-tracked compact excavator can move over pavement without harming it. A compact excavator's low ground pressure also minimizes damage to turf.
Less noise. – Compact excavators generate less noise than larger excavators, especially when moving across pavement or other hard surfaces.
Completing projects safely and efficiently is our number one priority. With good leadership and communication and using the best equipment for the job, you'll end up with a great outcome every time. If you're in the greater Denver or Chicago areas please contact us to discuss your compact excavator requirements.
Boulder Colorado Pool Removal
With this Boulder Colorado Pool Removal project a repeating theme occurred. The customer made the de…
Aurora Colorado Pool Removal
Introduction A swimming pool can be a source of endless enjoyment during its prime years, but as tim…
Loveland Colorado Pool Removal
Loveland Pool Removal This Loveland Pool Removal project was an interesting one. Recent empty nester…