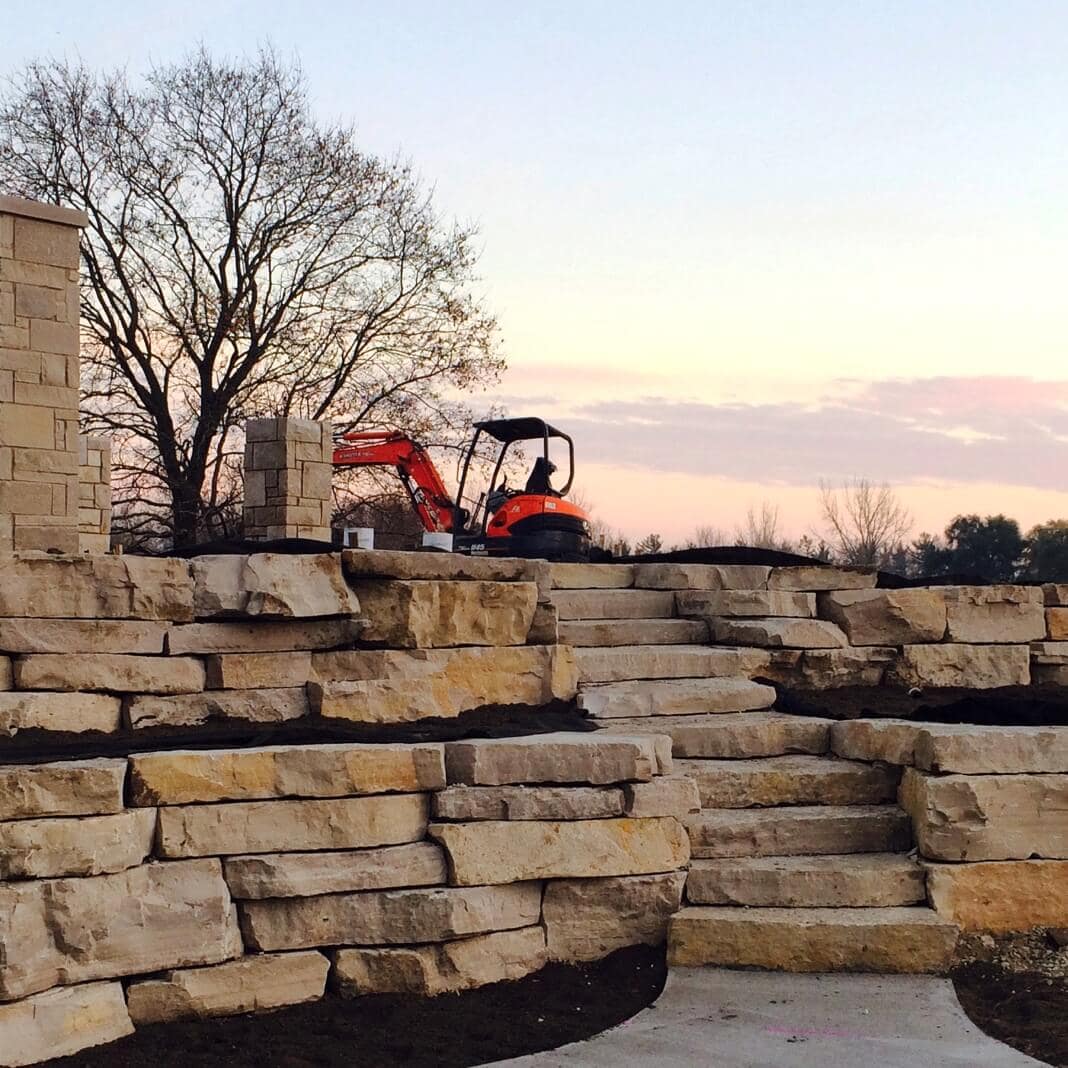 Natural stone retaining wall
By: Tyler Mack | April 2, 2018
What is a natural stone retaining wall?
To answer that we first need to take a look at what retaining walls are in general.
A retaining wall is a structure that holds or retains soil behind it. There are many types of materials that can be used to create retaining walls.  Materials include concrete blocks, poured concrete, treated timbers, rocks or boulders. Some are easy to use, others have a shorter life span, but all can retain soil. Some are simply utilitarian while others can improve on aesthetics as well.  By building a natural stone retaining wall, you can at the same time support sloping land and beautify your landscape as well.
Some of the most common landscaping walls you see today are created with natural stone. Natural stone is such a popular choice due to its natural and elegant appearance. Although it is more expensive than some other wall options, the beauty of it may be worthwhile to those who are set on creating an inviting outdoor living space.
Depending on the natural stone materials that you choose to use, the stones could be small, they could be flat, they could be thick and they could even be boulder size and come in different colors. The best materials for a natural stone retaining wall will depend on the type of retaining wall that you want to build, the amount of space you have to build it and the type of architecture of the home itself.  See some examples from Benson Stone Company and some additional material choices at High Plains Stone.
Natural stones are more expensive, and can be more labor intensive to set correctly. They are best used for shorter and narrower sections of retaining walls to maximize stability. Similar to its concrete counterpart, natural stone retaining walls need proper drainage capabilities to ensure its structural stability over time.
Conserve water through the use of Xeriscaping, read about it here.
While it's possible to tackle this as a DIY project, there are many important factors that need to be considered.  These include material selection, height of the wall, foundation, back fill,and leveling to name but a few. Unless you have some experience it's best left to hardscape professionals to do the job properly.
If you live in the Denver or Chicago areas and have recently had your pool removed , had some excavating work done or any other reason why you may want a retaining wall then contact us about your natural stone retaining wall options.
Boulder Colorado Pool Removal
With this Boulder Colorado Pool Removal project a repeating theme occurred. The customer made the de…
Aurora Colorado Pool Removal
Introduction A swimming pool can be a source of endless enjoyment during its prime years, but as tim…
Loveland Colorado Pool Removal
Loveland Pool Removal This Loveland Pool Removal project was an interesting one. Recent empty nester…