New Deciduous Shrubs for 2019
By: Tyler Mack | February 18, 2019
Every year, nurseries and plant growers present new deciduous shrubs for the growing season.  Below are some new shrubs presented by Proven Winners.
Scentlandia Sweetspire (Itea virginica 'SMNIVDFC' USPPAF)
This sweetspire promises to be more fragrant than other varieties and is sized (24"–36" tall and wide) to fit in any landscape.  It boasts longer, larger flowers that are more cold tolerant – hardy to zone 5 – and is a shade tolerant flowering shrub.  Sweetspire can handle wet soils as well as being deer resistant.
Suñorita™ Landscape Rose (Rosa x 'Chewgewest' USPPAF)
This continuous blooming rose sports orange flowers from spring through frost without deadheading.  Preferring full sun, this is a highly disease resistant variety.  With a mature size of 36"-48" tall and wide, this shrub can be used as a focal point or a flowering backdrop for other plants.
Bloomerang® Dwarf Purple Lilac  (Syringa x 'SMNJRPU' USPP 29,831)
Bloomerang® Dwarf Pink Lilac (Syringa x 'SMNJRPI' USPP 29,802)
These lilacs grow as a small, rounded shrubs (30"-36" tall and wide) enabling you to integrate it into the landscape easier than a conventional lilac.  Planted in full sun, blooms will cover it in spring and then reappear in summer and fall.  Deer resistant, this fragrant flowering shrub is hardy to zone 3.  As the name implies, Bloomerang Dwarf Purple has perfectly purple blooms and Bloomerang Dwarf Pink has pure pink blooms covering the plant (as you can see in the top photo).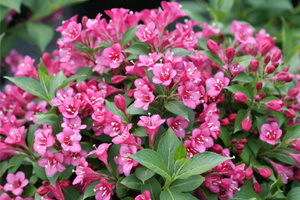 Snippet® Dark Pink (Weigela florida 'VUKOZLyra' USPPAF)
Fitting perfectly in any sunny spot, this dwarf weigela has vivid pink blooms.  Like with other weigela, this shrub blooms in late spring, but then continues to rebloom all summer.  Deer resistant, this 12'-24' tall and wide shrub works well to add color to any landscape.
Ready to add some color to your landscape?  Our Landscape Architects can help you make that happen.
With locations in both Chicago and Denver we are always ready to hear from you.
Greenwood Village Pool Removal
In this Greenwood Village Pool Removal the customer had an unusual request.He wanted the concrete po…
Centennial Pool Removal
In this Centennial Pool Removal we were approached by a realtor who introduced us to the client. Thi…
Boulder Colorado Pool Removal
With this Boulder Colorado Pool Removal project a repeating theme occurred. The customer made the de…