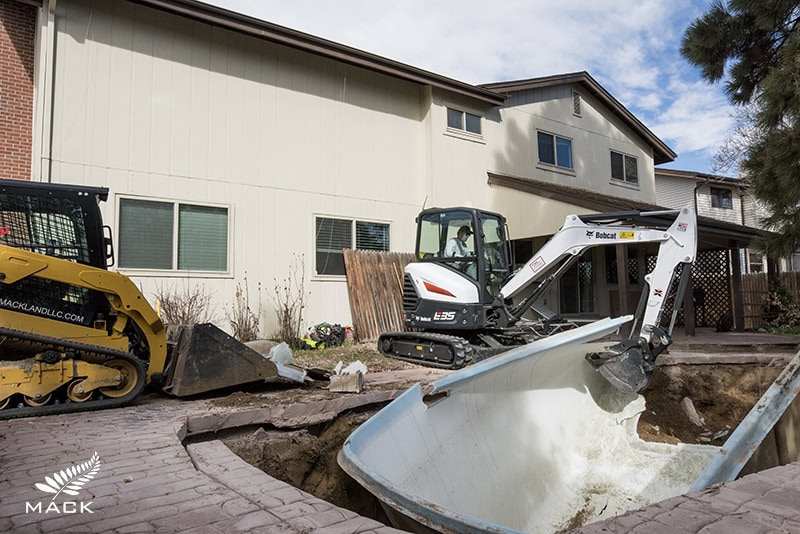 Aurora, Colorado Fiberglass Shell Pool Removal
By: Tyler Mack | April 9, 2020
Fiberglass Shell Pool Removal
After recently purchasing and moving in, our client in Aurora, Colorado contacted us about removing the failing pool that dominated her backyard.
This fiberglass shell pool had seen better days.  With the freeze/thaw that winters in Colorado bring us and the close proximity of a mature pine tree and its roots, the pool had lifted and shifted.  The previous owners had addressed the issue with Great Stuff foam.
The back yard was a very tight area to work in.  That's where our specialty with working with compact excavators really comes into play.
After removing the fiberglass shell entirely and disposing of it offsite, we broke up the surrounding concrete patio that covered the rest of the back yard.
We brought in clean compactable fill material and brought the back yard to grade.  Our client opted to have us stop at this point.  She wanted to get a feel for the backyard and determine what she wanted to do next.  Lawn, extend the patio, planting beds?  With the pool removed, her backyard looked as though it had doubled in size.
If you're in the greater Denver or Chicago areas please contact us to discuss your pool removal options.
America's #1 Source for Pool Removals
Greenwood Village Pool Removal
In this Greenwood Village Pool Removal the customer had an unusual request.He wanted the concrete po…
Centennial Pool Removal
In this Centennial Pool Removal we were approached by a realtor who introduced us to the client. Thi…
Boulder Colorado Pool Removal
With this Boulder Colorado Pool Removal project a repeating theme occurred. The customer made the de…