Real Estate Pool Removals: Tip #2
You know the saying: "bigger is better".  We have found that is not the case with heavy machinery and with pool removals.  In many locations, there is limited access to the back yard to remove the pool.  Tight side yards, trees, retaining walls or utilities can limit access.  We use ground protection to protect sensitive underground utilities that may not be easily located.  This is more common in tighter communities.  The most concerning are clay pipes and corrugated drainage tiles.  Here at MackLand, we specialize in getting into those hard to reach backyards.
Completing projects safely and efficiently is our number one priority. 
One way we accomplish that with our pool removals is to use a compact mini excavator.  The biggest benefit of using a mini excavator, is that it brings a lot of power to a small space. With projects that don't provide much room for large equipment, a mini excavator may be able to handle with ease. They have a small footprint but are very powerful and can manage even tough tasks.
With their small footprint and rubberized tracks, we can reduce the impact to the surrounding area and keep the work zone contained.  A rubber-tracked compact excavator can move over pavement without harming it. A compact excavator's low ground pressure also minimizes damage to turf.  An additional feature, the machine's 360-degree turning, offset digging and reduced tail swing, allow compact excavators to work productively in spaces where a full-sized excavator could not move.
Using large machines can cause more damage to the property that just removing the pool.  Their steel tracks can damage roadways and driveways and tear up turf.  The vibrations and excessive force can damage foundations and crack masonry.  Clean air matters.  Older, larger machines put out sooty diesel fumes that are not healthy for you or your family and neighbors to be breathing.  Older machines also tend to leak oil…on your lawn, driveway, sidewalk…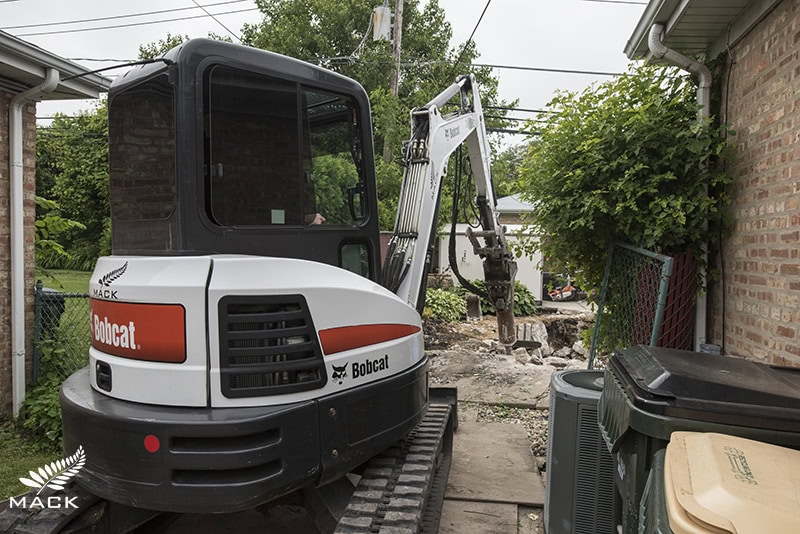 How we get it done.
After navigating our mini excavator into the backyard pool area, we get to work. Depending on the pool type, the machine either removes the fiberglass shell from the pool or begins breaking up the concrete pool bottom.  If the pool had steel or fiberglass walls, the mini excavator pulls them out to be hauled offsite.  Any concrete walls or walks are broken up with the machine as well.  Fill material is shuttled back to the hole with our other compact, lightweight machine, our track loader.  The mini excavator assists in spreading out and compacting the fill material brought in by the track loader.
If you're in the greater Chicago or Denver areas please contact us to discuss your pool removal options.
America's #1 Source for Pool Removals